SMTA
Experimentation
SMTA experimentation was launched on 15 December.
This experimentation aims to check and update short and medium-term active power adequacy analyses, in line with agreed ENTSO-E methodologies, for timeframes shorter than those of seasonal outlooks.
This adequacy review compares local adequacy input and grid capacities to conduct cross-border exchanges.
The dry run will be carried out on a weekly basis and the first run will assess Week 51.
First steps of the SMTA experimentation project
The first steps preparing this dry run are the result of intensive and fruitful collaboration between Coreso, TSCNet, SCC and ENTSO-E:
The initial concept of the project was based on ENTSO-E's expertise in Seasonal Outlook studies.
Data definition and set-up are handled in cooperation with ENTSO-E.
Coreso and TSCNET TSOs representatives participating in the sub-group specified the concept to be developed for this dry run.
This concept, which is currently limited to a simple deterministic and NTC approach, was validated by the ENTSO-E SMTA PG on 20 October.
Coreso developed the IT prototype for the dry run, in close collaboration with TSCNet and SCC.
All participating TSOs (23) have sent their Remaining Capacity (RC) forecasts on a weekly basis since 31 October.
The Week Ahead NTCs are extracted from the ENTSO-E Transparency platform.
Starting with a sample delivery of RC by TSOs for Week 43, the first tests of the process have been performed from Week 45 to 50.
As a result, data quality and inconsistencies are a focus point for the dry run.
A weekly report has been compiled to present the results of the adequacy assessment together with the validation of the quality of input data.
Current status
23 TSOs and three RSCIs are currently involved. Please see the map: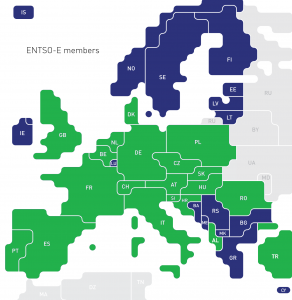 Next steps
Challenges for 2016 include designing the High Level Business Process and Business Process dedicated to the Week Ahead stage, improving the methodology by integrating load flow computation and a merit order approach, and defining data exchanges.