Experimentation
This adequacy review compares local adequacy input and grid capacities to conduct cross-border exchanges.
An ENTSO-E working group has been launched to develop a process for short and medium term adequacy (SMTA) forecasts. Coreso is leading this working group in close cooperation with the 4 others RSCs (TSCNet, SCC, Nordic RSC and Baltic RSC) and with the TSOs.
The SMTA service aims at performing a regional check/update of short/medium term active power adequacy diagnosis, in line with agreed ENTSOE methodologies, for shorter timeframes than seasonal outlooks.
This adequacy review shall be made comparing local adequacy inputs and grid capacity to carry cross-border exchanges. This diagnosis can include recommendations such as remedial actions to optimize cross-border exchanges, request to Balancing Service Providers in the Coordinated Balancing Area (CoBA) to change their availability status.
When needed (at least regional scarcity issue, cross-zonal capacities insufficient), a dedicated complementary security analysis can be performed and coordination can be extended to other regions/RSCs.
The resulting recommendations may consist in cross-zonal capacities adaptations/combinations in addition to the previously mentioned recommendations.
First steps of the project
After an intensive and fruitful collaboration between Coreso, TSCNET, involved TSOs at the beginning and ENTSO-E, the initial concept of the project has been based on the expertise of ENTSO-E regarding the Seasonal Outlook studies.
Data definition and set up are handled in cooperation with ENTSO-E.
The representatives of Coreso and TSCNET TSOs participating in the sub-group specified the concept to be developed for this dry run.
Firstly, this concept was limited to a simple deterministic approach by comparing available capacity of generation or need of energy from TSOs (Remaining Capacities) and determine if it's possible to carry with grid capacity (Net Transfer Capacities).
Coreso developed the IT prototype for the dry run, in close collaboration with TSCNET at this stage.
All participating TSOs sent their remaining capacity (RC) forecasts on a weekly basis since October 31st 2015.
The Week Ahead NTCs are extracted from the ENTSO-E Transparency platform.
Data quality and inconsistencies are a resulting focus point for the dry run.
A weekly report has been developed to present the results of the Adequacy assessment together with input data quality validation.
Improvements : Proposal of new approaches
Secondly, new approaches were needed from TSOs and necessary to be compliant with ENTSO-E adequacy methodologies : probabilistic approach and complex deterministic with a simple Market Flows optimization.
The probabilistic approach has been developed by a student during his 6 months internship at the end of his engineering school program. This approach is based on a calculation of spatial (for all countries together) and temporal (for each hour) correlation factors between Wind, Solar and Load from the 34 past years (with use of Pan European Climatic Database (PECD v2.0) which identify all measurements for Wind and Solar for all countries and ENTSO-E Historical Load Database for load for all countries). Then a matching is done between a large band of week ahead forecasts for Wind, Solar and Load for each country and these correlation factors from the past. By this, the Remaining Capacities (RC) sent by TSOs are adapted to represent the new values of Wind, Solar and Load found with the matching and a new calculation is performed. For each timestamp, 500 different scenarios are played and the percentage of cases without adequacy absences are counted.
This approach is complementary from deterministic one by providing a robustness of deterministic results.
The complex deterministic calculation is using a driving function for the algorithm linked with a simple "Realistic Flows" simulation which is a simple economic stacking by "fuel" type.
This approach and methodology is the same used for Seasonal Outlook Report with a merit order classification : a different cost for each type of generation and an application according to economic precedence.
A dedicated dry run has been performed in order to test it and the results described more realistic situations where energy came from TSOs which have a lot of cheapest energies like Renewable.
Finally, during the tense Winter 2016-2017 expected in France (at least),
Coreso performed a special Winter Adequacy Calculation every Friday morning to anticipate some lack of adequacy with a week ahead view.
Every weeks, results were discussed during the WOPT (Week Ahead Outage Planning Teleconf) meeting.
Current status
32 TSOs (28 countries) and 5 RSCs are currently involved. Please see the map: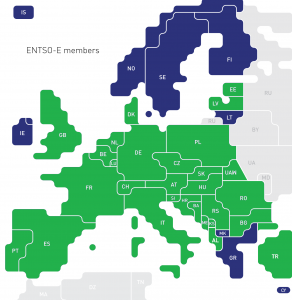 Next steps
The week ahead dry runs will continue.
A new format will be implemented in order to deploy the data quality check, to launch the probabilistic calculations with TSOs data and test the complex deterministic with the "Realistic Flows" driving function.
In the meantime, the methodology will be improved in order to define the high level regional adequacy assessment and perform dedicated experimentations by each RSC.