Coordinated Security Analysis (CSA)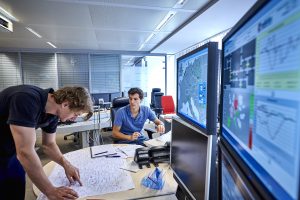 This service aims at:
Identifying risks of operational security limit violations in any part of the regional area (mainly triggered by cross-border interdependencies) by applying common Security Analysis methodology according to draft NC OPS Art 19 and, as required by TSOs, checking robustness of results against uncertainties (e.g. study of variants with different level of RES generation).
Finding relevant Remedial Actions (cross-border relevant ones).
Coordinating findings and Remedial Actions proposal with other adjacent RSCs.
This service is requested for at least the following timeframes:
Day-ahead: systematic.
Intraday: systematic for the timestamps regionally agreed.
Central Western Europe (CWE), Central Southern Europe (CSE) and partial Central Eastern Europe (CEE) areas
Day Ahead stage
Every day, Coreso provides a unique security analysis of the European grid on a day-ahead basis based on DACFs. Coreso gives advice, proposes solutions to participating TSOs and coordinates agreements on the remedial actions needed to deal with constraints.
D-1 security analysis comprises several steps:

Based on this merged file, the security analysis performed by Coreso simulates the tripping of any 380-kV/220-kV line or generator connected to the grid in areas of interest and under observation. As set out in the TSOs' internal procedures, special tripping activities are also simulated, such as double tripping in Italy, storms in Belgium and France, and 380-kV busbars in Belgium and France. This comprehensive analysis is processed for 24 timestamps for the CWE, CSE and CEE areas. The aim here is to generate a comprehensive 24-hour overview of the security risks on the grid for the following day.
The last step for D-1 activities consists of analyzing the constraints detected for the following day and identifying remedial actions to solve them. Some variants could also be studied from the original case, such as simulating fluctuations in the exchange programs at a particular border with regard to the available intraday capacity or an alternative hypothesis for wind power generation. These solutions are then discussed over the phone with the TSOs involved and agreed.
Special outputs for TSOs are also available, such as expected flows and PST tap positions in Belgium, expected flows on cross-border lines with France and renewable forecasts in Germany. If advised in time, Coreso is able to provide any 380 kV grid data upon request.
In any case, TSOs are still ultimately responsible for deciding whether to implement these remedial actions.
* DACF (Day Ahead Congestion Forecast) file: every day, each TSO from the Regional Group Continental Europe of ENTSO-E creates DACF files that provide an overview of its own grid for the following day. These files contain all the relevant information concerning load and generation and grid aspects (outages, topology, electrical data). Furthermore, the overall balance (i.e. flows expected on tie lines) is calculated in line with the market data published on the Vulcanus platform (Pan European verification function).
Intraday stage
Supporting our partners throughout the day with our Intraday processes and continuous monitoring of the grid.

As an RSC, Coreso supports TSOs throughout the day, helping to enhance Intraday capacities, securing the grid and conducting versatile studies. Coreso promotes coordination to allow the national control centres to decide on the form and implementation of remedial actions.
Coreso has developed tools to gather and analyze various incoming data, covering aspects ranging from renewable infeed to grid status, in order to provide its partners with a comprehensive understanding of the global grid situation.
At the core of the global IDCF process, Coreso merges these Individual Grid Models to generate a full description of the European grid. Security analyses are carried out for all timestamps; these analyses are shared hourly on Intraday Congestion Forecast Files (IDCFs) and every 15 minutes on Snapshot files. Coreso also provides detailed studies for specific periods of the day (Morning Peak, Evening Peak).
Coreso also conducts detailed studies for specific periods of the day. The overall indicators derived from all incoming data allow Coreso to launch additional Intraday studies to check whether previous recommendations are still valid. Security and Coordination Engineers then analyze the results and may contact national control centres if constraints grow or if new ones emerge.
Furthermore, in the event of major real-time events (such as frequency deviations or major grid disturbances), Coreso provides advice and advanced monitoring of the situation. Coreso gives post-event feedback in order to develop and improve guidelines for this kind of problematic situation.
Great Britain Synchronous Area
In addition to performing studies for Continental Europe, Coreso is also involved in coordination activities with National Grid.
Alongside coordination between TSOs in the Continental Synchronous Area, collaboration with the Great Britain Synchronous Area is becoming a reality within Coreso for several reasons:
The interconnected capacity between Great Britain and the Continent will more than double within the next five years, from the current 3 GW to more than 7 GW in 2020.
The TSOs on both sides of the Channel are participating in the Channel Capacity Calculation project.
The integration of renewable energy and the redesign of the generation profile in GB are causing unexpected energy exchanges with the Continent.
ENTSO-E's five key tasks for RSCs will increase the need for further coordination between the two synchronous areas.
Collaboration with the Irish Synchronous Area will soon become a reality.
Day-Ahead stage
In March 2015, Coreso started a daily process with National Grid focused on data analysis and testing, by merging and publishing the first European merged file with two independent synchronous areas, using the future-proof CIM-xml format.
In October 2015, Coreso successfully started the Day-Ahead planning process with National Grid, establishing the first daily operational process between the two entities. It is also the first coordination process to use the CIM-xml format for offline planning data and the first coordination process with another synchronous area (GB). National Grid became the first TSO to share CIM-xml files for coordination purposes. For the first few months the process will be performed as a parallel run, with the multiple objectives of increasing the coordination and knowledge sharing between National Grid and Coreso and preparing for future coordination processes.
The files shared by National Grid contain a reduction of the GB network, limited to the South-East of Great Britain, and Coreso has defined an Interest Area associated with the network where the HVDC links have the highest impact. Coreso staff have been trained in the National Grid network and operational rules in order to implement this process.
In this process, NGET shares daily offline planning data corresponding to two timestamps which they prepare for their Day-Ahead studies. The data is shared in the form of two CIM-xml files which are subsequently analyzed by Coreso operators. After checking the quality of the files, the operator performs a security analysis and calculates constraint limits for the network based on a set of rules for implementing remedial actions, depending on the geographical area and magnitude of the constraints. This way of analyzing the GB network is inherent to National Grid's know-how and way of operating the system. The results of this testing stage are very encouraging and will help to further improve offline planning data and interaction between the two entities.
Also at the Day-Ahead stage, Coreso engineers notify National Grid of the generation margins in the Continental area and enquire about the situation for the following day in the UK to gather any important information (low margins, unplanned outages on IFA interconnectors) in order to analyze the consequences for the mainland system.
This process requires the implementation of the necessary IT architecture as well as creating procedures and training CORESO staff. These are key to launching more processes between National Grid and CORESO.
Support in the event of major disruption
Coreso's main objective is to avoid major disruptions by conducting transmission system analyses and identifying and mitigating risks to the European transmission system.
As a result, Coreso's main service consists of day-ahead and Intraday security analyses and remedial actions for coordination management.
Nevertheless, during times of increased power flow volatility, major disruptions cannot be completely ruled out if there is a series of unforeseen events. As such, Coreso has developed tools and procedures to help TSOs should such an event occur. This involves several countries.
The know-how amassed by Coreso's operators regarding the various TSO networks and rules is unique in Europe. It allows the operators to efficiently analyze and quickly understand any major disruption that affects several countries. In order to support the operators and provide them with the real-time overview they need, a special tool called DADS (Data Acquisition and Display System) based on a Data Historian has been in operation since November 2011. This tool provides Coreso operators with real-time data updated every minute as well as alerts. The innovative representation of the grid using aggregated indicators makes it easier to analyze a situation.
Coreso's structure and expertise enables it to provide TSOs with valuable and comprehensive information that helps them to understand and act efficiently in the event of a major disruption across Europe.
If such a situation occurs, Coreso drafts reports with charts to explain to the TSOs what is happening in real time.
In November 2013, Coreso acquired a tool called EAS (European Awareness System) which monitors the frequency, system status, commercial exchanges and imbalances for European countries. This awareness system has two goals: – During stressed situations, the tool will provide information shared among all ENTSO-E TSOs, enabling them to comprehend the status of critical grids. – In the event of a large disturbance, Coreso will help TSOs to identify the origin and the spread of this disturbance.
We gave ourselves the challenge of explaining the Coordinated Security Analysis service in less than 90 seconds. Here we go!