Team
Coreso is a multicultural workplace with people from various European countries working together.
Coreso's management team consists of a Chief Executive Officer, Jean François Gahungu, and a Chief Operating Officer, Cédric Auxenfans. Together they manage more than 35 engineers from over seven countries, who come from all TSOs involved in Coreso.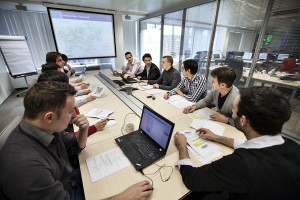 The tasks performed by Security and Coordination Engineers (SCEs) include monitoring and assessing the security of the electrical system at regional level, and initiating and coordinating appropriate initiatives with the relevant TSOs to ensure security of supply on a European basis. Other services relate to operational security in regional market initiatives (market coupling activities, capacity assessment, capacity calculation).
In addition to shift work, SCEs are involved in developing new initiatives, tools and processes. Constant internal and external interaction and knowledge sharing among operators from the various TSOs makes for a dynamic international working environment.
SCEs are supported in their activities by Operation Engineers (back office for operational aspects) and Project Engineers (for projects in which Coreso is involved).
Operational team: 23 Security and Coordination Engineers
Support operational team: 2 Operation Engineers
Project team: 7 full-time-equivalent Project Leaders and Experts
IT team: IT Manager and IT Expert