Coreso has established a Post Event Analysis (PEA) process to foster operational excellence while ensuring continuous improvement of the existing services provided to our stakeholders. The scope is to carry out studies after an unexpected event: we analyse incidents in the European Transmission Network, but also our operational services. This process seeks solution proposals based on the studies performed, shares the findings with the suitable audience and finally monitors the implementation of solution proposals, in collaboration with both internal and external stakeholders.
The following three key outputs are used:
Case study: Aims to assess complicated situations in unstressed circumstances and facilitate effective discussion about the actions taken.
Identification of root causes and good practices: Consists of investigating and identifying the root cause of events and good practices.
Continuous improvement: Ensures as the final step that the studies outcomes are turned into a solution proposal and are applied to improve standard operational work.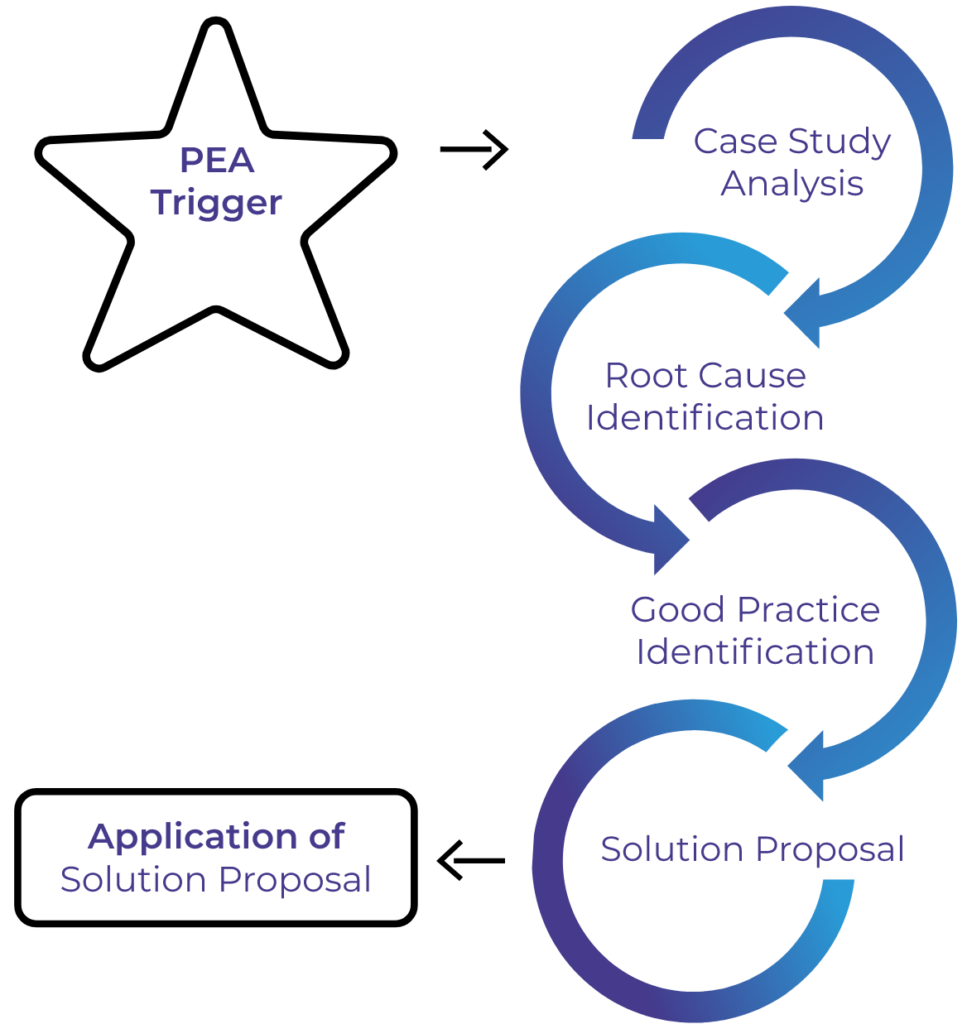 By implementing the PEA process, Coreso has anticipated the provision of task requested by the EU regulation (Article 37.1.i of the EU Regulation 2019.943), requiring Regional Coordination Centres (RCCs) to carry out Post-Operation and Post-Disturbances Analysis and Reporting. Coreso shall investigate and prepare reports on incident* across the European Transmission Network.
Four scales (threshold 0 to 3) assess the level of severity of an incident: from a noteworthy local incident (0) up to a general, extensive, major and Europe wide incident (3). According to the Incident Classification Scale (ICS) methodology, each TSO shall rank the events affecting system operation to their rightful level of importance with regard to system security. When an incident reaches a threshold equal to or above 2, Coreso needs to provide a detailed report on incident to an expert panel nominated at European level, to support them for further investigation.
Through this task, Coreso will play an active role in an incident investigation, in partnership with the TSOs. In order to provide RCCs with additional guidelines to execute this task in an effective manner, ENTSO-E developed a new methodology with contribution from RCCs. The methodology was submitted for approval to ACER beginning 2022.
This task is currently being defined. Therefore, the above explanations may be amended after the full development, approval and implementation of the methodology.
Read more information about this Post-operation and post-disturbances analysis task in our annual report or consult the regulation.
*An incident is an event influencing the cross-border transfer capacity and trade (e.g. significant generation outage, outage of transmission equipment, or split of the system) that may lead to social consequences (e.g. disconnection of load or partial to total black-out), degradation of the system reliability (e.g. violation of the system parameters) or degradation of system adequacy (e.g. shortage of reserves).